alerno language school – German courses

At alerno, we offer you various opportunities to improve your skills in the German language. Whether for the language test (TELC or Goethe Institute) , for work or for studies, we have the right course for you.
We would be happy to advise you on the right choice of the right course for you.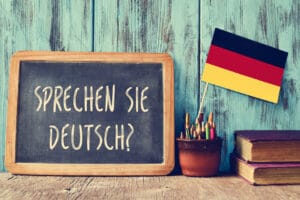 German courses at a glance

All courses are available as individual, group and e-learning courses.
Intensive courses (from € 5.62 / per unit **)
learn in a whole language level in a short time with a professional language trainer
everyone Course starts under guarantee *
learning in the small group (max. 6 participants) Each course participant learns levels from A1 to C1 at their own pace
120 to 160 lessons 20 x lessons per week (6 to 8 weeks)
You can find the course dates for intensive courses here.
Individual tuition (from € 34.95 / per TU **)
One-to-one tuition gives you the opportunity alone with a professional language trainer To train your German skills
Arrange lessons with us at your preferred times
Grammar training (from 179, – €)
improve yours Grammar knowledge for the exam (TELC or Goethe Institut) or for your everyday life with a language trainer
our grammar courses can be found in the One-to-one lessons or in the small group instead of
---
Exam preparation (from 159, – €)
Let us guide you through your examination of TELC or from Goethe Institute to prepare
includes exam preparation at least 12 teaching units **
Exam preparation is possible in one small group or in One-to-one lessons
You can inquire about appointments by phone!
Attention! When you prepare for an exam, you do not learn a language level; rather, we prepare you for the exam.
Exam preparation C1 for the university (from € 469)
let yourself be focused on your German exam (TestDaF, Goethe certificate, telc) to prepare
the course includes 80 teaching units (from Monday to Friday 4 lessons per day)
learn in small groups or in individual lessons
---
Evening and morning courses (from € 8.68 / per TU **)
Course participants should have at least a B1 language level
2x per week 90 minutes of lessons in small groups in a nice atmosphere
Course objective to develop German language skills without exam objective
Entry into the course is possible at any time! ***
Have we piqued your interest?
Mon – Fr. 9 a.m. – 5 p.m .: 0421 19 4 18

* When you register, alerno guarantees that your intensive course will start after 8 weeks at the latest. However, if you register, intensive courses at alerno usually start after 2 to 4 weeks.
** One lesson = 45 minutes
*** Entry is possible if there are free places in the course.